Glittering Abu Dhabi is the United Arab Emirates capital city and is fast stealing the thunder of its more widely known neighbour, Dubai.
Before the discovery of vast amounts of oil and gas Abu Dhabi was a small fishing village, but following the natural resource boom in the 1950s Abu Dhabi was transformed into the sky-scraper-centric luxury haven that it is now. Of course Abu Dhabi is a Muslim country and, as with all the states in the UAE, westerners must adhere to rules they may not be used to back home.
The climate is, as expected, hot, particularly during the summer months when temperatures can hit 40 degrees Celsius. The winter season is still a warm 24 degrees on average. Being a dessert climate, the heat disappears at night, and during winter evenings, 13 degrees is the norm.
Employment, Work Permits and Visas
There are a tremendous number of expats in Abu Dhabi due to the mass need for workers that came about with the oil-growth. People from all over the world travel to Abu Dhabi for employment purposes, with tax-free salaries proving to be a big plus point. As a skilled or semi-skilled worker there will be a host of job opportunities for you in Abu Dhabi in sectors such as finance, construction, IT and of course Oil. There some positions that are exclusively held for Abu Dhabi nationals, but these are unlikely to affect your options.
If you have received a job offer then you will swiftly be granted a work permit and residency visa, the paperwork of which your new employer (sponsor) will deal with. These residency visas generally last for three years with the option of renewal. If you are travelling with family you will be allowed to take out a family visa which enables you to sponsor your partner and any children under the age of 18. Along with the application you will also have to undergo a medical examination.
Business culture
After gaining employment in Abu Dhabi you should familiarise yourself with the codes of conduct that are prevalent in the offices and workplaces of this Muslim country. Despite the blistering heat of Abu Dhabi a formal code of dress is always necessary in the work place, especially for women. It is common for Abu Dhabi natives to arrive late to appointments and also for meetings to be disrupted by visitors. Such occurrences are the norm in Abu Dhabi so do not be alarmed or offended, in fact a lack of patience and humility on your part will be seen as offensive. In Abu Dhabi people like to do business on the foundations of good relationships.
Always partake in small talk, be courteous and polite, greet people with the traditional "Asalaam 'Alaykum" instead of 'Hello', and offer a firm shake of the hand. Arabic is the national language of Abu Dhabi but English is widely spoken, especially in business. Another difference from the western world is the working week, in Abu Dhabi the usual schedule is Sunday to Thursday, 9 to 5, with Friday being the day of prayer and rest. During the holy time of Ramadan business may come to a standstill as most people will be fasting during the day. If you do encounter women, which is rare in the male-dominated business world of the UAE, refrain from touching them, even a shake of the hand, unless they initiate.
Accommodation
With so many people travelling to Abu Dhabi for work purposes the government installed a strong program of housing development. The many expats who live in Abu Dhabi tend to live all over the city in apartments, villas and expatriate compounds. A large number of companies who employ expats will assist you upon your arrival with relocation and rent information; in some cases you may even be given a company apartment.
If you do have to find your own apartment the general rates for rent per month are: AED 20,000 (£3.5k) for a fully furnished two bedroom house and around AED 10,000 (£1,700) for a fully furnished two bedroom apartment, dropping to an average of AED 8,000 (£1,425) for the same yet unfurnished. A single room can be rented for approximately AED 2,000 (£350) per month.
Areas that are popular amongst expats are Manasir, Musalla Eid and Karama, they are all close to the city centre, schools and parks.
Transport
To gain a driving license in Abu Dhabi, expats must simply obtain a residency permit and then submit their existing drivers license. As in all the UAE states driving etiquette is haphazard at best, reckless driving is the standard so only take to the roads yourself if you are a confident and experienced driver.
The other option of getting around is the multiple taxis that are both reliable and cheap. Most taxis offer a metered service, but if you come across one that isn't be sure to agree your price prior to your journey to avoid argument.
There is a bus service that operates but the routes are not that extensive, with some simply venturing around the shopping malls.
Healthcare
Healthcare in Abu Dhabi is of a high standard at both private and public levels. All expats are required to take out health insurance by law, you will be issued a medical card which must be shown if you need medical aid. All healthcare comes at a price although there is not a great deal of difference between private and public fees. There are three main hospitals in Abu Dhabi: The Emirates Hospital, The Emirates International Hospital and The Oasis Hospital. All three will have top of the range facilities and English speaking staff.
Education
With so many expats living and working in Abu Dhabi, there are a healthy number of schools to cater for international students with curriculums from around the globe. Some of the schools on offer include: The British School, Abu Dhabi International Private School, Raha International School and the American Community School.
Private education fees will differ from school to school.
Entertainment and Lifestyle
Abu Dhabi is a Muslim country that follows strict rules, this means that you cannot freely drink alcohol, display public showings of affection or eat pork products. However, unlike some other UAE states where law is enforced very strictly, Abu Dhabi is happy to tolerate the ways of expats providing that they carry out their activities in a discreet manner. With a large expat community and an equally large amount of money being the foundation of Abu Dhabi, you will not have to worry about passing your leisure time as there is much to see and do.
One of the most popular places for expats to relax is the leisure facility known simply as 'The Club'. The Club is a private members club that was established in 1963 with the aim to provide entertainment for the first batch of expats who travelled to Abu Dhabi when the oil boom began. The Club has a private beach, a gym, a golf course, a library, tennis courts... you get the picture, it has everything! They also regularly organise social events for their members, including extravagant parties at Christmas, New Years, Easter etc. To become a member of The Club you must apply via their website and have affiliation with current members, speak to your new colleagues with regards to finding a sponsor.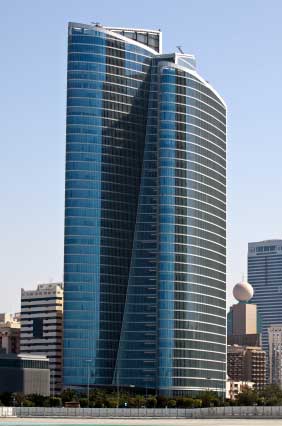 The nightlife scene in Abu Dhabi is actually more exciting than you may think; all the big hotels have nightclubs and bars that are allowed to serve alcohol. Many internationally known DJs and artists regularly perform in Abu Dhabi and there will also be more home-grown entertainment such as belly dancing.
Eating out is very popular in the UAE and with such a veritable melting pot of cultures the cuisine is varied and delicious! Seafood is especially popular and there are many fine restaurants waiting to serve you.
The main leisure activity in Abu Dhabi is shopping. There are a total of 18 different shopping centres where you can find pretty much any type of product you can think of, from clothes to electronics to authentic Arabic goods. The Madinat Zayed Shopping and Gold Centre is amongst the biggest of the malls. Every year during the month of March is the famous Abu Dhabi Shopping Festival where the cheap tax free prices go even cheaper, with incredible reductions and bargains on offer during this time.
If you are the type of person who is particular about their groceries then rest-assured, because Abu Dhabi has huge supermarkets that stock all the famous international foodstuffs, so your favourite breakfast cereal will no doubt be sitting on the shelf waiting for you to add milk.
The Abu Dhabi (and UAE) embassy can be found here: http://www.uaeembassyuk.net/