Despite its history as a British colony, Hong Kong's culture is deeply eastern with emphasis on relationships, family importance and the value of "face" being persistent in both business and social circles. Expatriates who live and work in this city will find it immensely competitive yet refreshingly vibrant. The British aspect of Hong Kong allows an easier expat transition for UK nationals. English is widely spoken and general signage is also in English. Different areas will of course offer different cultural sensibilities and some parts will be very Chinese. There is a strong economy with many opportunities for expatriate workers. The main language is Cantonese; with English as the main business language and taught to children from an early age in school.
Weather conditions in Hong Kong include hot tropical summers and dry mild winters with occasional cold patches. The most pleasant times will most likely be the run up to spring and a usually sunny autumn.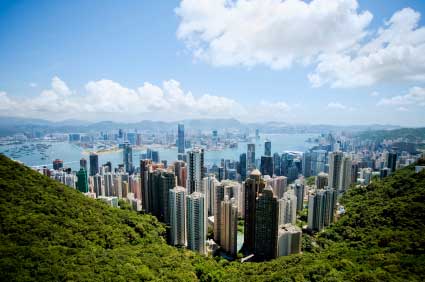 Employment Work Permits and Visas
Still the main business hub of China, Hong Kong has long been one of the principal cities in global finance. Expats have long seen Hong Kong as a viable destination and with many of the world's largest multi-nationals housed in the city, there is always a place for skilled workers. Hong Kong also has the honour of drawing in the highest earning expats, with 50 percent earning in excess of $200,000 USD.
Foreigners wishing to work in Hong Kong must demonstrate that they have a special skill or the company hiring them must demonstrate that it cannot find a qualified candidate in Hong Kong. Many expatriates gain their Hong Kong work permits by way of transfer from another country within the same company. A few points that the immigration board are known to consider when judging applicants include: education to at least a degree level standard, significant experience in their desired position, a salary that meets the professional standard (approximately HK$20,000) and to show a willingness to contribute to the economy. The visa application will usually take around seven to eight weeks to process.
Business Culture
Hong Kong was once a British colony and while this may make your transition as an expat smoother, keep in mind that there are many business codes and practices in place that you would do well to grow accustomed to before starting your new job. The traditional form of greeting in Hong Kong is a gentle bow but a normal handshake will still suffice, don't go overboard with the grip though, a strong, firm handshake may be the norm in western society but in Hong Kong this isn't generally the case.
Hierarchy plays a strong part in Hong Kong business so when being introduced to new colleagues try to address the most senior member first as a mark of respect. This hierarchical sensibility spreads to more than just greetings and one should take care to always show seniors the utmost of respect. Business functions hold a high standing in Hong Kong where you will often find that important meetings and business arrangements will be conducted over a lavish meal at a local restaurant.
The Chinese hold great importance on the concept of "saving face". This means the avoidance of confrontation and ending in a situation where you could cause somebody embarrassment. Try and say "no" as little as possible, even if you are asked to do something you feel you cannot, offer a diplomatic response such as "it may be difficult, but I will certainly try for you". Always maintain a calm demeanour and refrain from any boorish boasting, modesty is the key at all times. The Chinese are not ones for rushing and often important decisions will be deliberated over a long period of time. Another practice you may experience is the culture of gift giving. Gifts are often exchanged over the holiday periods or when new acquaintances are made. If you are presented with a gift politely take it with both hands and be sure to offer a gift in return upon your next meeting. When given a gift never open it in front of the giver, wait until you get home!
Adopt a similar exchange/receive policy with business cards, take them with both hands and offer favourable comments with regards to the card you are given. Have your personal card printed on both sides, one in English and one in Cantonese.
Accommodation
Rates for renting properties vary, depending on size, amenities, view, and of course, location. Hong Kong Island has some of the most expensive real estate in the world, so expect to pay a premium if you choose to live there. In Hong Kong, the security deposit placed is usually equivalent to 2 (sometimes 3) months rent, in addition to setting aside another months rent as the first months payment. Half a months rent is usually paid as commission to the real estate agent. No terms for rental contracts are mandated by Hong Kong law. British expats tend to stay in the 'Central' area of Hong Kong Island, or in Tsim Sha Tsui, just over the water in Kowloon.
If you wish to consider buying a property in Hong Kong, do note that all land in Hong Kong ultimately belongs to the government. That is to say, anyone buying a property is in effect buying a lease agreement, which can range from 50 years to 999 years. There are very few restrictions on foreigners purchasing property in Hong Kong.
Transport
The majority of Hong Kong's population utilise public transport for their daily commute. A train system, taxis and buses are all easily available and inexpensive. Similar to London's Oyster Card, Hong Kong has an equivalent which is known as the Octopus Card. If you wish to obtain a drivers licence in Hong Kong you will have to join a waiting list; and due to the limited parking spaces available in the main areas of Hong Kong driving yourself to work is not the most practical method.
Hong Kong is famed for its moving pavements and mid-level escalators. These are 800 metres long and climb 135 vertical metres and provide a free effective mass transit system to complement the public transport in place.
Healthcare
Hong Kong has the honour of having some of the best healthcare facilities in the world. Most of the medical staff will be English speakers so there should be no concerns over any loss of translation, however this comes at a cost as both private and public hospitals come with a hefty price tag. For this reason it is vital that you have a health insurance plan in place that includes overseas coverage. Due to fees that are already in place even for public facilities (who charge more if you are a non-resident) most expatriates tend to go for the private option.
There are 12 private hospitals and over 50 public hospitals in Hong Kong and its outlying areas. All of the private hospitals are accredited by the UK's 'Trent Accreditation Scheme'; this continually evaluates standards of quality in healthcare.
Education
Hong Kong prides itself on high standards of education. However the native schools have a slightly different teaching method to schools in the western world, and the classes will generally be in Chinese. For this reason most expatriates choose to enrol children in one of the international schools found in Hong Kong. Within the halls of these international schools your children will be able to study from the same curriculum found back home, thus providing a semblance of familiarity. To gain entry into one of the top schools your children may have to join a waiting list and sit entrance exams. In some cases, large international companies pre-reserve spaces for the children of their employees. There are international schools that charge a fee yet also have some subsidisation from the government, or there are schools that are completely private, which will cost substantially more.
The 'English Schools Foundation' runs 21 schools in the Hong Kong area. This consists of both primary and secondary schools, 2 kindergartens and a special needs school. They all adhere to the English National Curriculum and have excellent academic records.
Entertainment/Lifestyle
The city of Hong Kong is a busy, bustling and vibrant place that offers much in the way of entertainment, especially for those who are new to its shores. Over the years Hong Kong has established itself as one of the coolest cities in the world, its nightlife and shopping rivals that of London or New York and it has excellent entertainment establishments and sports events. There is no shopping tax (cigarettes and alcohol aside) in Hong Kong so you will be able to enjoy high quality goods at lower prices than elsewhere. A very fashionable place, the city is host to a variety of exclusive eastern designer boutiques whose garments are often highly coveted in the west by trendy urbanites. Of course there are also local markets selling fresh produce and other home grown items. In the evening you will be able to pass the time in various pubs and bars, there are British themed pubs, music venues and night clubs should you want to unwind after a hard day's work.
Aside from the bright lights of the city there is also a plethora of more tranquil attractions to visit. Simply stroll through the streets of Hong Kong and you will no doubt soak up some of the great atmosphere that is woven into the fabric of this culturally diverse city. A delightful contrast of east and west, Hong Kong architecture itself is a sight to behold. Things to see include the Wong Tai Sin Temple, the stunning view of the city found atop Victoria Peak and the Hong Kong Museum of History, that is a great place to research and discover the history of your new home.
There are also festivals throughout the year including the epic Chinese New Year celebrations in February, the Hong Kong Sevens rugby tournament in March and the Cheung Chau Bun Fest, a steamed bun festival that is celebrated in May to give thanks to Pak Tai, the Taoist God of the Sea.
The Chinese embassy for the UK can be found here: http://www.chinese-embassy.org.uk/eng/