Everyone likes a nice lush garden. Children can frolic, grown-ups can chat and enjoy the sun whilst the elderly can have a relaxing snooze amongst the butterflies, all underneath the warming glow of Mr Sunshine. Yes gardens are truly a wonderful place, but what happens when Mr Sunshine doesn't join us? What happens when Old Man Winter takes over the proceedings? Our beloved outdoor gardens become a no-go zone, their floors become squelchy and they dirty our footwear, the trees lose their beautiful green replaced by a decaying brown, the cold hard truth being that gardens are only fun when the weather is nice. So how can we remedy this situation? How can we enjoy the beauty of nature all year round? Well it's obvious isn't it!? Indoor gardens!
Have a grand project in mind but need to work out the finances? Speak to a recommended IFA for advice on how to best manage your personal situation and achieve your fianncial goals.
In the hi-tech world we inhabit indoor gardens are a very distinct possibility. Whilst a fairly exclusive phenomenon at the moment how long will it be before indoor gardens are a staple of homes around the world? Join us as we take a look at some of the world's greatest indoor gardens, and generally laugh in the face of photosynthesis.
First up is Pasona O2, an underground farm in Tokyo, found within a former bank vault. An initiative of The Pasona Group farmers, Pasona O2 was created to give unemployed members of Japan's disenchanted youth a job, a sense of worth and hopefully help more young people to become interested in farming. Not exclusive to youth, Pasona O2 is also there to employ older members of society who may also be struggling to find employment. In Pasona O2 over 100 types of produce are grown, all using the height of technology.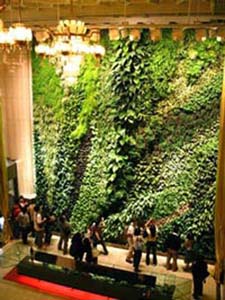 Next we gaze upwards in awe at the Vertical Garden of Taipei. Created by the French artist Patrick Blanc, an artist who also happens to be a botanist, the vertical garden is found in Taipei's National Concert Hall and measures eight metres tall and six metres wide. The garden was created in 2007 and is but one of many.
The busy subway of Paris hides our next botanical wonder, the futuristic Line 14. Line 14 is different to other subways as none of its trains have any drivers. Unfortunately only the actual gardeners can enter the garden but however that won't stop you from appreciating its beauty from the outside.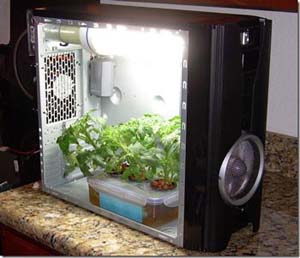 Not strictly an indoor garden, but interesting phenomena that has sprung up on the internet is using old PC cases as tiny indoor growing areas, known by its fans as Micro Grow. Micro Growers gut out their pc cases, and use tin foil and ultraviolet lights to transform them into little hotspots of vegetation and plant life.
This next indoor garden is exactly that, it was created by a team of Japanese architects, Supposed Design Office, and was built into a house as a garden-room. The owner of the house did not have an outdoor garden and so he enlisted the architects to make him an indoor one, with fantastic results.
Another product of Japan is the plant found in the tram stop Koraku-en. Living in its own chamber with sun lights and a timed water spray, this one looks like it's in a museum from the year 3030, and it houses the last remaining plant life from a bygone era.
Our next entry is yet to be completed, but when it is finished it will no doubt be able to lay claim to being one of the most ambitious and breathtaking gardens in the entire world. The King Abdullah International Gardens in Saudi Arabia will be spread across a total of 24 acres and will house plant life from different eras across time, including the prehistoric Jurassic period. Aptly enough for a garden that displays life from the past it will also endeavour to give us a glimpse of the future, a bleak room that will show us how the Earth will end up if we don't tackle climate change.
Whilst the King Abdullah International Gardens will be the largest indoor garden known to man, it's not yet built, and until it's finished that honour will belong to Cornwall's Eden Project. The Eden Project was opened in 2001 and houses all sorts of plant life and attractions for visitors to marvel at. Two of the most popular areas are the Rainforest Bio and the Mediterranean Bio, each perfectly replicating their respective areas.
Singapore is our next stop, their airport in Changi has a fantastic indoor garden that showcases 15 different types of orchid, a cactus garden and a stunning butterfly enclosure with over 1,000 butterflies fluttering around.
The last stop on our garden tour is Madrid's incredible Jungle. The amazing Jungle has been grown in the large train station Atocha. The Jungle spans 4000 m2 and has 500 different types of plant life and also a selection of sea life including turtles and fish.