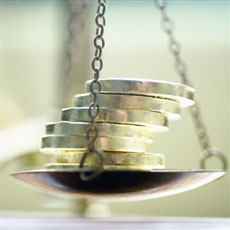 United Kingdom Chancellor George Osborn has admitted that Britain is struggling to deal with inflation compared to other countries, leaving British consumers worse off than their overseas counterparts.
The rise in inflation, currently up by four percent, has led to Brits having to fork out more for basic items including food and fuel. The price of basic foodstuffs has increased dramatically in the UK, and is currently at it's highest point since the last five years. According to the British Retail Consortium every day items the likes of bread and pasta jumped up by 2.7 percent in price between December 2010 and January 2011, creating an annual increase of 6.3 percent.
Speaking at the G20 world leader summit in Paris, Chancellor Osborne conceded that Britons are now in a worse position than people in other countries, and suggested that national debt and a dwindling pound lay at the heart of the problem.
Mr Osborne said: "The depreciation of the currency happened because Britain was overpriced in the world and that rebalancing had to take place. It has the effect of helping rebalance the economy, but of course it also has the effect of pushing up oil and food prices in a way that means those prices have gone up more for British consumers than for some other consumers elsewhere in the world."
The British Retail Consortium also cited inflation as a source of increased prices, their report stated that: "The rise in food inflation is being driven by surging food commodities in global markets. According to the United Nations, global food prices hit a record high last month, surpassing the levels seen in the 2007-08 food crisis. Pressure on vital food commodities has come on the back of continued strong demand from emerging economies and poor harvests from major exporting countries such as Russia, the US, Australia and Argentina. The surge in commodity prices is working its way through the supply chain to wholesalers and is now beginning to materialise in shop prices."