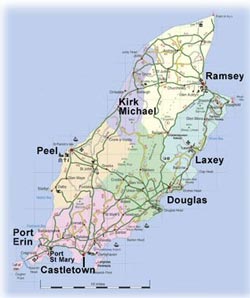 The Isle of Man is set to benefit from recent tax increases, as wealthy Britons flock to the island to protect their fortunes.
With their low taxes, the Isle of Man has always been an attractive destination for wealth preservationists, recently they have made more of an effort to lure businessmen, entrepreneurs and investors to their shores with the "Freedom to Flourish" campaign.
Now, especially with the UK Government's newly-introduced 50 percent tax rate and higher CGT, more and more high-profile Brits are opting to move on to greener pastures. The latest scalp to be claimed by the Isle of Man is that of English property bigwig John Morphet. The 55 year old tycoon, worth an estimated £85 million, has bought up a sprawling mansion complete with 10.4 acres of garden land. Sources claim he plans to operate a part of his business from the estate.
The estate agent who sold Mr Morphet the property, David Creane, is not surprised by the influx of British blood: "I expect more high-end sales of this kind as more wealthy UK residents leave for tax reasons. Most of my would-be buyers come from the North and the Midlands, as they are already familiar with the Isle of Man."
The Isle of Man is an attractive destination for wealthy business folk as it is an ideal place to actually carry on their business, it's not just a retirement haven: "Many of the high net worth individuals who come here want to carry on in business, and the island provides an excellent environment in which to do that" added Mr Creane.
The Isle of Man does not charge corporation tax on most companies, and it offers very favourable rates of tax for the wealthy, no one person can pay more than £115,000 tax per year, regardless of their sources of income.