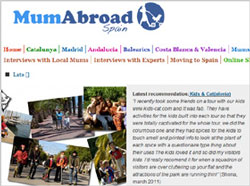 A group of British mothers have set up an internet forum with the intention of helping new and would-be expat mothers with settling into their new homes.
Moving away from the UK has ever been a popular choice for professional young couples. As the UK drifts further into a sea of austerity more and more Britons are finding greater personal, and financial, fulfilment in countries where employment prospects are more rewarding and quality of life is of a higher standard.
However, there are often many obstacles to tackle when starting a new life abroad, actually adjusting to your new surroundings being one of the most difficult. Adjusting abroad can be even more difficult for women who are travelling with their husbands as stay at home mothers. Research has shown that while the husband may flourish in a new role at a new employer, often the woman may struggle when simply operating as a housewife, especially if she has all the responsibilities of helping children adjust to a new life too.
Now, a new online resource has been created to assist expat mums with coming to terms with their move- www.mumabroad.com. For mums, by mums, mumsabroad.com was set up by two expat mums, Carrie Frais and Rebecca Laidlow, who currently live in Spain. When begging their own expat adventures they discovered that they could not find much help specifically geared towards helping expat mums on the internet, so they took matters into their own hands and created the forum.
Not only establishing a place for expat mums to meet and share experiences, mumabroad.com also offers information regarding children's events and such.